What is a Clinical Medical Assistant?
While Administrative Medical Assistants perform mostly clerical tasks, a Clinical Medical Assistant focuses on helping physicians with patient care. Their work consists of multitasking while juggling charting patients' vital signs, assisting in patient examinations, scheduling lab work, and administering medication. A Clinical Medical Assistant may choose to earn their Certified Clinical Medical Assistant (CCMA) certification as well.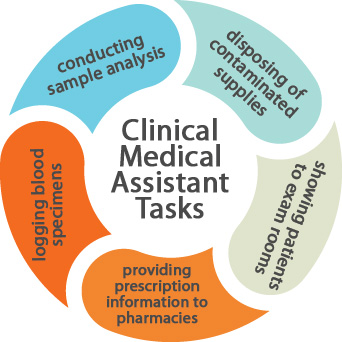 What do Clinical Medical Assistants do? 
A Clinical Medical Assistant plays an integral rolls within the healthcare industry and perform tasks like:
Operating technology such as blood pressure measuring equipment
Conducting sample analysis
Disposing of contaminated supplies
Logging blood specimens
Keeping up-to-date technically
Providing prescription information to pharmacies
Showing patients to examination rooms
Exercising critical thinking
Why should you become certified?
CCMA certification may be a step in the direction of your future career as a Clinical Medical Assistant. According to the Bureau of Labor Statistics, employers prefer to hire certified Medical Assistants. It may make sense to earn your CCMA certification and highlight the skills and abilities that may make you valuable to potential employers. Since certification requires a time commitment and resolve, it could be a great way to show how serious you are about becoming a Clinical Medical Assistant.
How do I become certified?
The for profit sponsoring organization for CCMA certification is the National Healthcareer Association (NHA). The NHA also certifies several allied health professions. An NHA certification may indicate that you have met a nationally recognized standard of competency and that you demonstrate commitment to your profession.
There are two pathways to earning your CCMA certification, but you must first meet the basic qualification: you must be at least 18 and have a high school diploma (or the equivalent. For additional information on how to earn your CCMA certification and for online resources like student videos, FAQs, continuing education, and much more visit NHAnow:
CCMA Coursework
Making the decision to become a Clinical Medical Assistant and begin your degree or certificate program might feel a bit overwhelming. With the right information, you may enroll in classes and be confident, knowing that you are making the perfect career choice for you. The following are some classes you may take while earning your diploma or certificate at a college, community college, or technical school:
Clinical Procedures
Laboratory Skills
Medical Office Procedures
Pharmacology
Medical Law and Ethics
Medical terminology
Pursuing a career in which you need to show compassion, as well as exhibit patience, when dealing with people who are sick, anxious, or in pain, may not be the easiest the job in the world. However, if you are serious about your Clinical Medical Assisting career, you may find satisfaction and enjoyment in your day to day tasks since you have the knowledge and ability to make a difference in people's lives. Factor in the reality that the numbers of healthcare workers have increased, along with the country's private-sector, healthcare workforce, and you can get excited about letting us help you begin your Clinical Medical Assistant education today.