What is an Administrative Medical Assistant?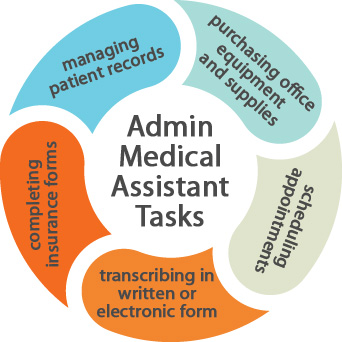 An administrative medical assistant assistant program teaches students about patients' medical information, how to fill out insurance forms and manage medical records. An Administrative Medical Assistant specializes in clerical and medical office work. Sometimes they are referred to as Medical Office Assistant or Medical Office Secretary. They are often the patient's first experience with the medical practice. Other terms used to refer to this position include medical secretary, medical receptionist, or health information technicians.
This is different from a Clinical Medical Assistant. Clinical Medical Assistants perform tasks such as giving injections and collecting tissue samples.
What does an Administrative Medical Assistant do?
Administrative Medical Assistants have a variety of job requirements they typically perform, including:
Managing patient records
Transcribing in written or electronic form
Scheduling appointments
Purchasing office equipment and supplies
Completing insurance forms
Using business software applications
Knowledge of customer service
Meeting quality standards for service
In many instances, this healthcare career may lead to other positions in the healthcare industry. 
Medical Administrative Assistant Classes
Completing an administrative medical assistant program may require taking a number of classes. Medical administrative assistants regularly interact with patients and records. This makes both soft people skills and electronic skills important! It takes about 1 year to complete a typical program, during which time you might take courses such as:
Medical Transcription
In this course, students learn the use of different types of software to transcribe dictation from medical professionals as part of the coursework. The course covers basic medical terminology and a basic introduction into anatomy and physiology. Students may learn on different types of software and gain a better understanding of the functions of the body in order to better transcribe what the medical professional is saying.
Medical Law and Ethics
This course provides an introduction into legal and ethical issues regarding patient care. The class looks at items from both the perspective of a patient as well as a healthcare worker. The course covers methods of protecting yourself and other healthcare workers from the possibility of malpractice on multiple levels. HIPAA is a major topic in this course.
Business Writing and Electronic Health Records
This course covers the proper way to communicate and write effectively in a professional manner in a doctor's office. This course covers how to properly transcribe the dictation from the health professionals. The course covers the best way to make sure that all facts are properly presented and that the terms used are appropriate and correct for whoever reads these reports. 
Anatomy, Physiology and Terminology
This course covers a number of topics. The course goes over the basic anatomy and physiology from the perspective of healthcare workers. The student learns what the different terms mean and to where they are applied. The course goes over the proper use of these terms when writing up the documentation and how to know what is being referred to in different aspects.
Office Management
This course covers a broad spectrum of topics in healthcare settings. The student learns a number of items from interpersonal communication, to the proper methods for sending and receiving messages. Items covered may include phone etiquette and using office management software. Other items covered may include maintaining and creating a schedule and basics of human resource management. Learning office procedures may be covered.
Introduction to Insurance and Coding
This course covers introductory topics in the field of medical coding. Items covered may include but are not limited to understanding insurance terminology and knowing how to properly code items based on office visit or a procedure. This course covers the proper way to submit information to insurance companies so as to limit delays for patients to not only receive treatment, but to allow for the medical office to receive payment through insurance claims.
Fundamentals of Medical Billing
This course covers a number of topics that the student uses for the foundation of their career. In this course, students learn how and where to properly send information to insurance companies for billing purposes. The class also covers learning an understanding of the benefits that insurance companies provide to patients so as to allow for proper billing and providing the best options for patients seeking treatment. Students may also learn how to present different payment options as well.
When looking to take any of these classes make sure to know the nature of the certificate program. Have an understanding of the enrollment procedures if it is an online course. Look at the accreditation of the program and see if financial aid is available. Financial aid may be available to those who qualify. The basic requirement to consider this type of program is a high school diploma. These programs may be offered as continuing education, as online programs or at a community college.
Should I Become Certified?
Employment for medical assistants is anticipated to rise much faster than other occupations according to the Bureau of Labor Statistics (BLS). Though not required by most states, a certification may improve your job prospects. The CMAA certification is updated regularly. This is important as it aims to ensure students have up to date relevant job knowledge and skills. 
What Is the Difference Between a Clinical and Administrative?
An administrative medical assisted program is different from a clinical program. A clinical medical assistant performs tasks that differ between employers. Most often, they complete administrative and therapeutic tasks within a practice. They work to support the needs of the practice and the physicians they work under. This may include completing tasks such as taking vital signs and helping with medical exams. Medical assistants work hand-in-hand with patients to support their needs.
By contrast, an administrative position focuses more so on administrative only tasks. These individuals often complete clerical type of work. They do not participate in traditional clinical procedures. This may include tasks such as compiling medical records, completing charts, scheduling patient appointments, and managing insurance paperwork. These tasks differ because they do not often involve tasks related to working directly to provide patient care.
How do I Become a Certified Medical Administrative Assistant?
The certification of CMAA is offered by the National Healthcareer Association (NHA). The NHA certifies a variety of allied health professions. Over the the last 25 years, the NHA has certified over 750,000 allied health professionals.
There are 4 easy steps to prepare for the CMAA certification.
Take a short quiz on the NHA website to determine if you are eligible.
If you are eligible, set up an account.
Once you have an account you may schedule your official exam.
Prepare for your exam. The NHA offers a test plan to help you prep. You may also take an online practice test for a fee.
Pursuing a career as an Administrative Medical Assistant requires work but the end results may be worth the effort and sacrifice. Not only could you have a career that you love, but you might help other people every day when you show up and do your job. You may be the first person a patient speaks to on the phone or the last person a patient sees when they check out. If you greet people with a smile and treat them with respect, you could have a direct impact on the healthcare system for the better.