What is an Administrative Medical Assistant?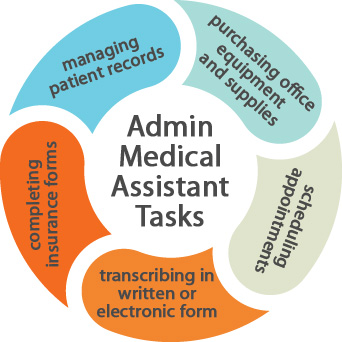 An Administrative Medical Assistant specializes in clerical and medical office work. Sometimes they are refereed to as Medical Office Assistant or Medical Office Secretary. They are often the patients first experience with the medical practice. AMAs also code patients' medical information, fill out insurance forms and manage medical records.
This is different from a Clinical Medical Assistant. Clinical Medical Assistants perform tasks such as giving injections and collecting tissue samples.
What does an Administrative Medical Assistant do?
Administrative Medical Assistants have a variety of job requirements they typically perform, including:
Managing patient records
Transcribing in written or electronic form
Scheduling appointments
Purchasing office equipment and supplies
Completing insurance forms
Using business software applications
Knowledge of customer service
Meeting quality standards for service
Medical Administrative Assistant Classes
Medical administrative assistants regularly interact with patients and records. This makes both soft people skills and electronic skills important! It takes about 1 year to complete a typical program, during which time you might take courses such as:
Medical Transcription
Medical Law and Ethics
Business Writing and Electric Health Records
Anatomy, Physiology and Terminology
Office Management
Introduction to Insurance and Coding
Fundamentals of Medical Billing
Should I Become Certified?
Employment for medical assistants is anticipated to rise much faster than other occupations. Though not required by most states, a certification may improve your job prospects. The CMAA certification is updated regularly. This is important as it aims to ensure students have up to date relevant job knowledge and skills.
How do I Become a Certified Medical Administrative Assistant?
The certification of CMAA is offered by the National Healthcareer Association (NHA). The NHA certifies a variety of allied health professions. Over the the last 25 years, the NHA has certified over 750,000 allied health professionals.
There are 4 easy steps to prepare for the CMAA certification.
Take a short quiz on the NHA website to determine if you are eligible.
If you are eligible, set up an account.
Once you have an account you can schedule your official exam.
Prepare for your exam. The NHA offers free test plan to help you prep. You can also take an online practice test for a fee.
Pursuing a career as an Administrative Medical Assistant requires work but the end results may be worth the effort and sacrifice. Not only could you have a career that you love, but you might help other people every day when you show up and do your job. You may be the first person a patient speaks to on the phone or the last person a patient sees when they check out. If you greet people with a smile and treat them with respect, you could have a direct impact on the healthcare system for the better.